Pen and ink drawings

This ink pen drawing was my tribute to the Challenger and its crew of 7 shortly after the accident which destroyed the spacecraft and took the lives of its crew.

These 2 ink pen drawings are of Apollo 11 events. The footprint on the moon, and Buzz Aldrin standing next to the flag.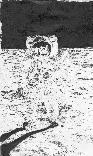 This is an ink pen drawing of probably the most famous picture of Buzz Aldrin on the Moon.

This is a pencil drawing of Alan Shepard at Fra Mauro during the hike out to Cone Crater during Apollo 14.

This is an ink pen drawing of Astronaut Jim Irwin and the Lunar Rover next to the Apollo 15 landing site at Hadley-Appenine.
I have also done other types of artwork, such as portrait sketches. Here are a few examples of them.

This is a pencil drawing of the Bandon Lighthouse across the Coquille River from the town of Bandon Oregon, where I was born. See also my painting called "Bullard's Comet" above.

This is a pencil portrait of Obi-Wan Kenobi, from Star Wars.

This is an ink pen drawing of John Lennon which I made shortly after his murder on December 8, 1980.
Past art exhibitions.
Raytheon, 2012 A small display of artwork at a Raytheon event with fellow Space and Aviation Artist Michelle Rouch, October 2012.
Views of the Universe displayed at Tohono Chul Park (7366 North Paseo del Norte, Tucson Arizona), along with the work of Bill Hartmann and Dan Durda The exhibition ran from December 18, 1996 through January 27, 1997.
DPS 1996 - Artwork displayed along with Novagraphics Space Art Gallery and the works of Dan Durda and Bill Hartmann, October 1996, Tucson Arizona.
Here are some links to other Space Art web sites. Enjoy!
Dan Durda's Paintings - Dan and I have been egging each other on since 1995, helping to make both our artwork that much better.

Bill Hartmann's paintings - Bill is the prototype for Dan and I, being first a Planetary Scientist, and not necessarily second, an artist. He has shown us the way. My two favorite artists are Bill Hartmann and Bob McCall.

Novagraphics Space art gallery

International Association for the Astronomical Arts

Alan Bean Online Gallery

Chesley Bonestell Gallery

Michelle Rouch, Aviation and Space Artist

Bob Ross - The Joy of Painting

Slawek's SF Universe!

Luc Pilmeyer's Art Page

Salvatore Ventura: This site provides public access to the most comprehensive resources available on the artist Salvatore Ventura and his architectural paintings.
Last update: August 7, 2020